Posted by Mark Clements on 30th Nov 2022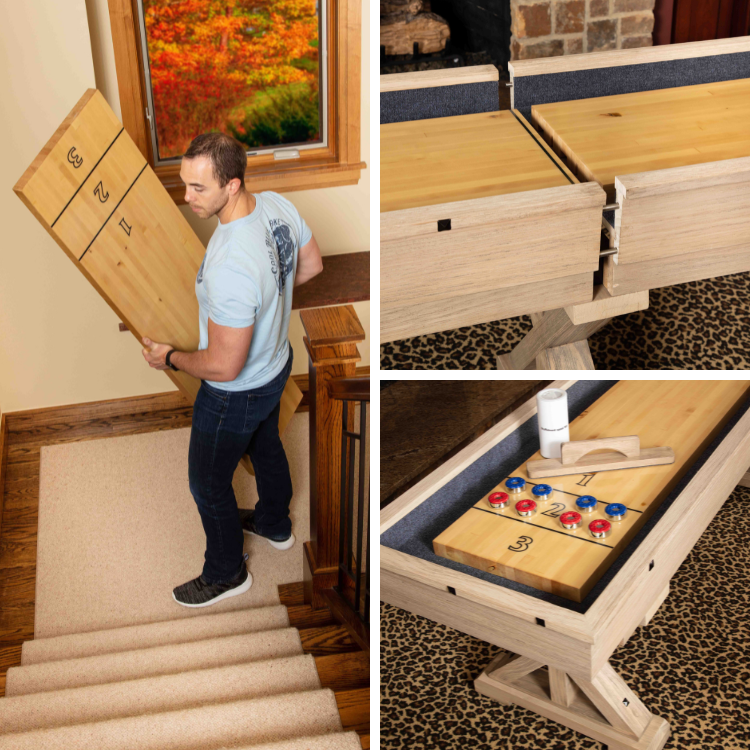 I have watched shuffleboard tables evolve from a tavern game into a popular in-home recreation game. As the head of Merchandising at Freetime Fun, my goal is to develop unique, expertly crafted games that will exceed customer expectations. After researching the shuffleboard market, I found that consumers were frustrated when considering a shuffleboard table - they are unable to fit a single 12' shuffleboard table into their game room which is often up or down a flight of stairs, or around a tight corner. I found consumers want a stylish, quality table built of solid wood. No more MDF with stripped screws and wobbly construction. Customers were also disappointed with poor assembly instructions, missing parts, fake wood play surfaces and shipping damage due to poor packaging.Our new Rockford 2-Piece Upstairs/Downstairs Shuffleboard Table solves all these problems. I think it is the finest shuffleboard table in its price range:
Beautiful Farmhouse design! It will add style to any room.
Versatile 2-piece design. The Rockford table travels in two 6' pieces. It can fit upstairs, downstairs, and around tight stairway corners. It can proudly go where no one-piece shuffleboard has gone before. At assembly the two pieces are joined together seamlessly to give you the playability of a one-piece table!
Expertly crafted out of 1" thick, solid wood. No cheap MDF here. Just furniture quality solid wood construction that will withstand years of heavy use.
3 trestle style legs provide solid support at the ends and in the middle where the table is joined.
2" thick Butcher Block laminated hardwood play surface is the same surface the pros play on.
Integral climate adjusters allow for quick surface adjustments. You can dial in a concave, convex or a flat surface, whichever you prefer!
I have developed an installation manual that is user friendly for DIY and redesigned all the packaging to ensure your table arrives in an undamaged condition.
The new Rockford is good looking, built out of solid wood and its two-piece design fits just about anywhere.
The superior construction in our table is backed by a 5-YEAR WARRANTY. I look forward to hearing from you.
Mark Clements

V.P. of Merchandising | Freetime Fun